Movies For Mommies (MFM), is the original parent & baby film event, and the brainchild of Robyn Green.
Launched in June of 2001 in mid-town Toronto, Movies for Mommies was the first event of its kind to offer grown up entertainment in a Baby-Friendly environment.
The idea was first conceived when Ms. Green went to a matinee one afternoon to enjoy a movie. Single at the time, and not being particularly maternal at that point in her life, she was alerted to this unfilled niche when a young mother sat down a few seats away with her baby. The lights dimmed, the film began and the baby started to howl. At that moment inspiration struck, and Ms. Green decided to create a movie matinee event exclusively for new parents to enjoy, where crying would be welcome and other parent-perks would be available.
While other cinemas have tried to emulate the Movies for Mommies concept, MFM remains a leader not just as a movie program, but as an event and destination for Mommy Meet Up groups. Dads, friends and caregivers are always welcome to attend and everyone enjoys amazing free weekly samples, door prize draws before the shows, warm and welcoming staff, and monthly pre-show events.
Now celebrating it's 21st year, MFM has expanded across the country to major cities including: Toronto, Vancouver, Edmonton, Regina, Saskatoon and Winnipeg. The program expands by offering licensing opportunities for moms who want a stay at home business opportunity.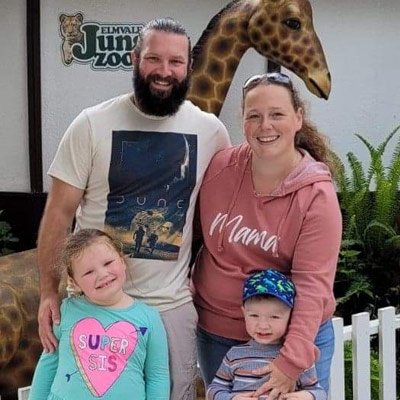 Samantha Stark
MFM Barrie
As a momma of 2 amazing little ones I understand how important the mom community can be. When the opportunity for MFM came up I jumped at it! I already own and operate a mom and baby biz in town, Barrie WP Creations, so this was just a natural fit. When I am not momming with these businesses, or out in the community promoting mom life, I am a Registered Nurse. This is a true passion of mine, supporting moms and babies, and helping moms have a fun outing that is baby friendly. Can't wait to meet you all at the Barrie show! We will have all kinds of fun planned for everyone!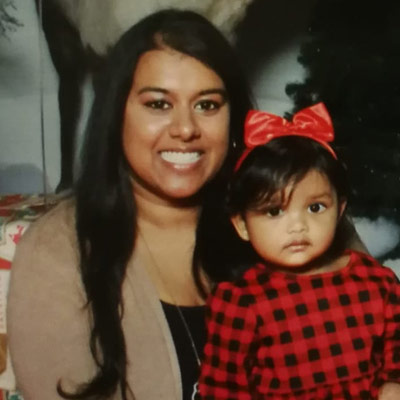 Cynthia Ramanand
MFMCalgary
While on maternity leave with my first child I was desperate to find outings that gave me some much needed ME time and would still be comfortable to bring my little one and I was so excited when I found Movies for Mommies! Last year my family and I packed up our lives moving from Toronto, to Calgary, Alberta and I once again found myself searching for outings that could accommodate my little ones and be entertaining for me. After realizing there wasn't an MFM location out here, I decided to reach out and start one. I am so proud to be part of such a supportive business that gives other mamas a safe space to connect, recharge and enjoy an afternoon movie out. I'm super excited to share this program with other local Calgary mamas and can't wait to see you and your little ones at the movies!
Lisa Kvapil
MFM Toronto/Beaches/North York
Lisa is a mom of two, Cole and Quinn. When she's not running after the kids, you'll find her baking and cooking in the kitchen, walking, playing tennis, doing pilates and biking along the Beach. They have family movie night every Friday night with lots of popcorn and cuddles!
Robyn Plener
MFM Vaughan
I'm Robyn and I am the proud owner of MFM Vaughan. Growing up in Thornhill, I would see advertisements for MFM at my local theater and would dream of attending with my own baby one day, Fast forward 20 years later, I'm a mama to 2 precious little girls! With my first daughter I missed out on taking her to Movies for Mommies, so I guess you could say that I'm making up for it now by becoming an owner. I love having my little one with me to experience the cinema and meet other babies makes it that much more special!
Looking forward to seeing you at show time!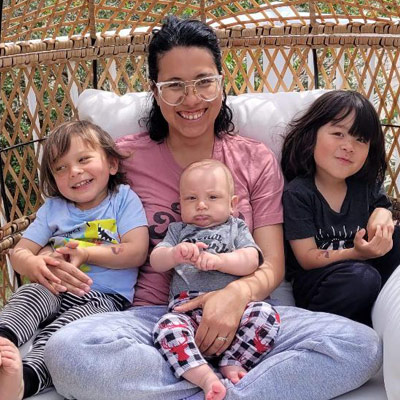 Lisa de Miranda
MFM Drumheller
Hi, I'm Lisa and I'm a stay at home mom to 3 little boys. My husband and I moved from the big city of Toronto to a small town of Drumheller in Alberta. As a MFM attendee with my first 2 boys, I knew where ever we moved to, I wanted to bring the magic of MFM to that town! I home school my boys and I'm also a holistic baby sleep specialist, where I help families get sleep without sleep training (www.primalbabysleep.ca).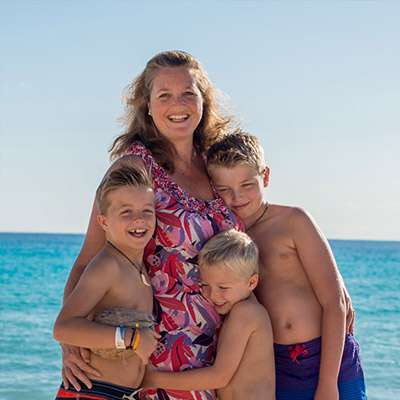 E-J Walker
MFM Oakville
E-J Walker has had an adventurous life – and its not over yet! She left the UK with a family of 3, moving to Hong Kong where they lived for 6 years and where her family expanded to 5!! Now established in Canada for 4 years, she is a busy mom of 3 boys and the business owner and main teacher at TipToe Music (www.tiptoemusic.net). She is always busy planning the next adventure for her family (all within Canada she promises!) Mom-time is so important to E-J, we never get enough of it she thinks, and she wants to help the mommies of Oakville and surrounding areas find some time for themselves too.
Janice Mastromarco
MFM Mississauga
I'm Janice, wife to Nick and mom of two little cuties who keep me on my toes! I first fell in love with the MFM experience when my daughter was born in 2019. After attending many shows I knew that I wanted to share this amazing experience with other moms. I also own Wylderose Inc, a photography company tailored to Maternity, newborn, family and lifestyle photos. We will be providing photoshoots throughout the year at our Mississauga location. I'm looking forward to meeting you all at the show!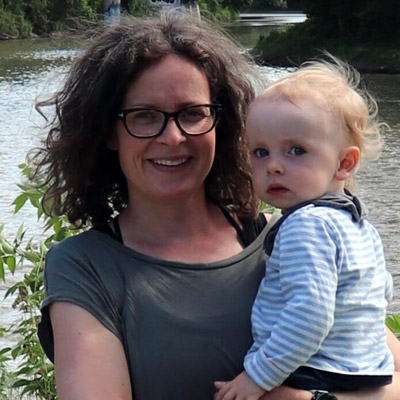 Inga Wenderoth
MFM Etobicoke
I grew up in Germany and went on a work and holiday adventure in Canada in 2009. Fast forward 12 years and I'm still here in Toronto where I live with my son and fiancé. After becoming a mom, I became fascinated with baby and toddler sleep and saw an opportunity for a fulfilling career change that would combine my passion for helping people with my own personal experiences. In addition to being an MFM owner, I'm also a certified baby and toddler sleep specialist and help families get more sleep without sleep training. You can chat with me about movies & sleep at MFM!
Emma Montello
MFM Langley
As a mommy of 2 and having a husband who often works away, I've felt how isolating mom life can sometimes get. I'm slowly growing my community in my new home of Langley and jumped at the opportunity of licensing MFM in this town with many growing families. I feel passionate about bringing moms together and having a good support system. When I'm not on maternity I'm working in the film industry which I love. MFM marries my work and my interests together perfectly.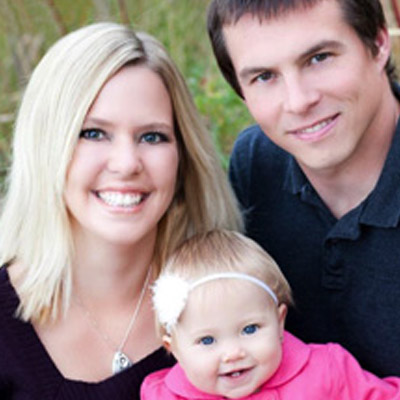 Jennie Vessie
MFM Saskatoon & Regina
I'm a mom to two beautiful, happy girls, Addison and Izzy. I came on board as the owner of Movies for Mommies Saskatoon in February 2013. Prior to this Addison and I would attend the movie every week as it was a great outing for us and allowed us to meet other moms and babies. When the opportunity arose to take over Movies for Mommies Saskatoon I jumped at it, as I had experienced the benefit of the program first hand and I want to ensure that other moms benefit from it in the future. I love getting to meet all the moms that come to the movies and seeing all the beautiful babies. Prior to my maternity leave I worked with adults with intellectual disabilities and since my maternity leave ended I currently work running a daycare.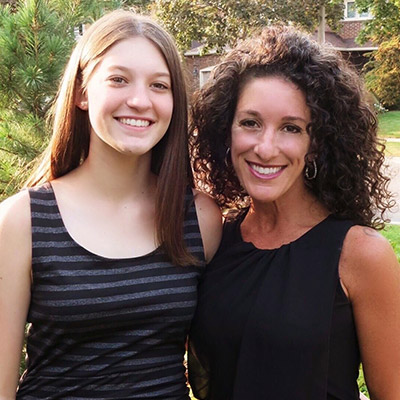 Caryn Van Bruggen
MFM Marketing Coordinator
20 years can go by in the "flashiest of flashes". In 2002, I had the privilege of being one of MFM's first attendees. Nearly 2 decades later, my daughter Hannah is all grown up and I was so impressed with the program that I never stopped. My role as Event Hostess and more recently Marketing Coordinator have allowed me to continue enjoying my passion for movies while being a mom, a wife and simply appreciating the chaos of family life.